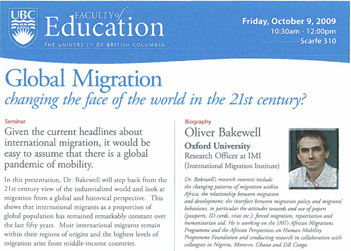 October 9, 2009
10:30 a.m. – 12:00 p.m.
Faculty of Education Lecture
Dr. Oliver Bakewell is a Research Officer at International Migration Institute (IMI) at Oxford University. His research interests include the changing patterns ofmigration within Africa; the relationship between migration and development; the interface betwren migration policy and migrants' behaviour, in particular the attitudes towards and use ofpapers (passports, ID cards, visas etc.); forced migration, repatriation and humanitarian aid. He is working on the IMI's African Migrations Programme and the African Perspectives on Humall Mobility Programme Foundation and conducting research in collaboration with colleagues in Nigeria, Morocco, Ghana and DR Congo.
Co-sponsored by:
Liu Institute for Global Issues, Centre for Culture, Identity & Education (CCIE), Office of Graduate Programs & Research, and External Programs & Learning Technologies