Member presentations
CCIE member presentations beyond CCIE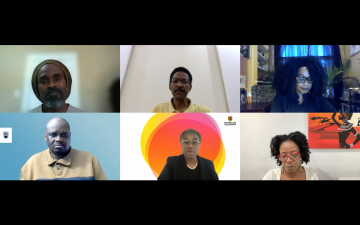 A book launch held for the recently published book Nuances of Blackness in the Canadian Academy: Teaching, Learning, and Researching while Black (University of Toronto Press, 2022). The event was hosted by the Equitable Leadership Network of the Faculty of Education, University of Ottawa.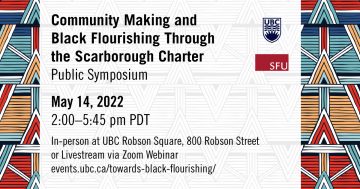 May 14, 2022  | 2:00–5:45 pm PDT In-person at UBC Robson Square, 800 Robson Street or Virtually via Livestream Poster On May 13 and 14, the University of British Columbia (UBC) will be hosting the inaugural Inter-Institutional Forum of the Scarborough National Charter on Anti-Black Racism and Black Inclusion in Canadian Higher Education. The forum […]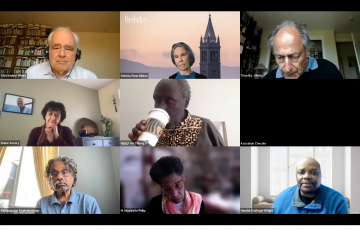 This book launch event outlines Ngũgĩ wa Thiong'o's work and the reach of his thinking, chiefly within the US and areas of its closest hegemony, joining artists, activists, critics and scholars (often the same) from the Caribbean through North America to Hawai'i. Discussants/contributors include Carolyn Cooper, Simon Gikandi, Marcial González, Patricia Penn Hilden, David Lloyd, […]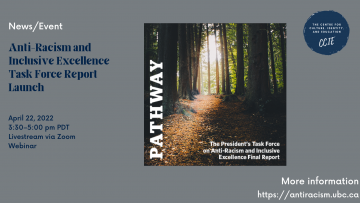 After a year of intensive work, the UBC President's Task Force on Anti-Racism and Inclusive Excellence (ARIE TF) has concluded its work and submitted its final report which includes 54 comprehensive recommendations for addressing various forms of racism and related forms of discrimination. The event featured remarks from the Task Force co-chairs and UBC leadership, as well as a panel discussion about the recommendations.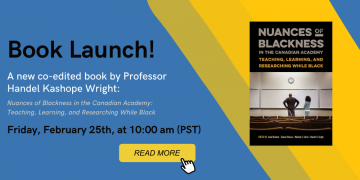 Friday February 25th, at 10:00 – 11:00 am (PST) Recording The essays in this collection make visible the submerged stories of Black life in academia. They offer fresh historical, social, and cultural insights into what it means to teach, learn, research, and work while Black. Please join Awad Ibrahim, Tamari Kitossa, Malinda S. Smith and […]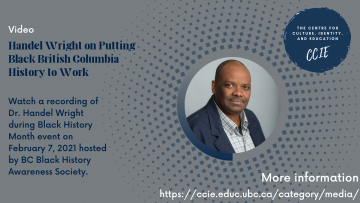 Black History Month event on February 7, 2021 hosted by BC Black History Awareness Society. Guest Speaker: Prof. Handel Kashope Wright, Director, Centre for Culture, Identity & Education, UBC.
Thursday 29 April – 11:45 AM – 1:15 PM (Pacific Time (US & Canada))
Organizer: Esraa Al-Muftah (Qatar University / University of British Columbia)
The perpetual [gendered] crisis in education: A genealogical analysis of the desired ideal girl in (post)colonial Bahrain   *Sara J.. Musaifer (University of Minnesota-Twin Cities)
The political mechanisms of reforming educational systems in the Gulf region   *Ibrahim Alhouti (UCL Institute of Education)
Strategizing in higher education: A critical discourse analysis   *Hadeel AlKhateeb (Qatar University)
Academic mobility, between the past and the present: The case of Qatar University   *Esraa Al-Muftah (Qatar University / University of British Columbia)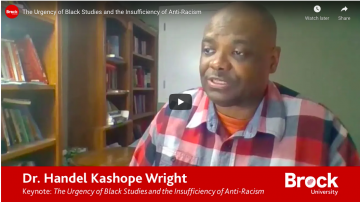 Professor Handel Kashope Wright delivers the keynote at the Virtual Symposium: Activism and Solidarity Post-Script to the "Scholar Strike Canada" on October 29, 2020. Keynote Title: "The Urgency of Black Studies and the Insufficiency of Anti-Racism".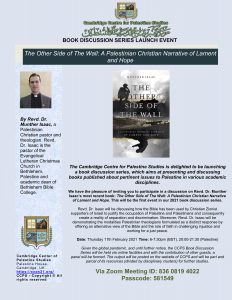 The Cambridge Centre for Palestine Studies is inviting you to participate in a discussion on Revd. Dr. Munther Isaac's most recent book: The Other Side of The Wall: A Palestinian Christian Narrative of Lament and Hope.

Recent events have brought the issue of systemic racism to the forefront prompting all orders of government and organizations to take a much closer look at racial discrimination and develop strategies to address this long standing issue.
In response, Metro Vancouver is hosting a series of forums on systemic racism for elected officials in the region featuring Dr. Handel Wright and a panel of storytellers, with discussion moderated by Kathryn Gretsinger, an award-winning CBC broadcaster. Storytellers include Neila Miled, recent PhD graduate of the Faculty of Education.