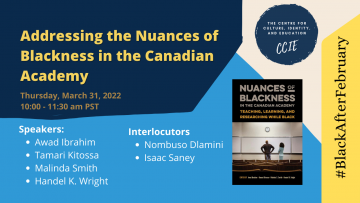 Thursday, March 31 2022 |  10:00 – 11:30 am PST |  2:00- 3:30 pm EST Recording As part of our #BlackAfterFebruary series we present: Addressing the Nuances of Blackness in the Canadian Academy Chair/Moderator: Handel Kashope Wright Speakers: Awad Ibrahim Tamari Kitossa Malinda Smith Handel Kashope Wright Interlocutors: Nombuso Dlamini Isaac Saney Panel Description: Join […]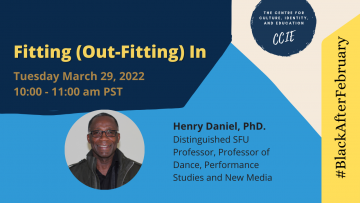 Tuesday, March 29, 2022 10:00 – 11:00 am PST  |  1:00 – 2:00 pm EST Recording As part of our #BlackAfterFebruary series we present: Fitting (Out-Fitting) In Abstract How does one go about de-colonizing a mind, starting with one's own? This is a question the Kenyan writer Ngũgĩ wa Thiong'o himself wrestled with. Part […]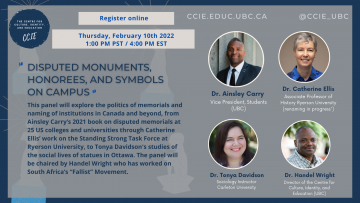 Thursday, February 10, 2022 1:00 – 2:00 pm PST  |  4:00 – 5:00 pm EST Event Description: Since 2015, students, faculty, and staff have openly expressed their displeasure with controversial memorials on campus. In South Africa student defacement of the statue of Cecil Rhodes at University of Cape Town sparked the national "Fallist" (#Rhodes […]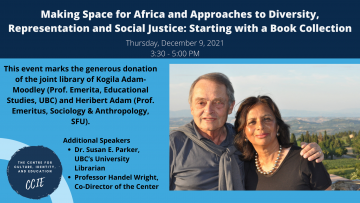 December 9, 2021 This event marks the generous donation of the joint library of Kogila Adam-Moodley (Prof. Emerita, Educational Studies, UBC) and Heribert Adam (Prof. Emeritus, Sociology & Anthropology, SFU) to the CCIE and UBC Library.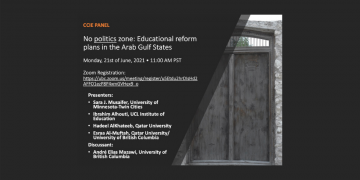 Monday 21 June – 11:00 AM – 12:30 PM (Pacific Time (US & Canada))
Organizer: Esraa Al-Muftah (Qatar University / University of British Columbia)
The Perpetual Crisis in Education: A genealogical analysis of the ideal girl in (post)colonial Bahrain   *Sara J.. Musaifer (University of Minnesota-Twin Cities)
The political mechanisms of reforming educational systems in the Gulf region   *Ibrahim Alhouti (UCL Institute of Education)
Strategizing in higher education: A critical discourse analysis   *Hadeel AlKhateeb (Qatar University)
Academic mobility, between the past and the present: The case of Qatar University   *Esraa Al-Muftah (Qatar University / University of British Columbia)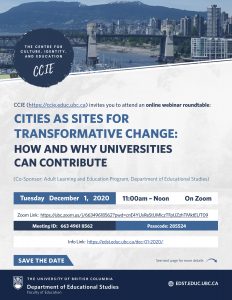 Date: December 1, 2020
Time: 11:00am – Noon
The presenters recent and SSHRC-funded project, entitled "Transforming city governments in response to disruptive change: meeting the challenges of colonization, inequity, and climate change," is an example of collaborative efforts between UBC and municipal governments that seeks to understand how Canadian cities can transform as they address the complex challenges of colonization, inequity and climate change. Preliminary insights indicate that city staff are under pressure to deliver on set priorities and timelines with little time and resources to reflect on the theories, paradigms and worldviews that inform their decision-making. Through a learning journey, city staff, community partners and researchers will work to unearth the structures within which cities operate and test alternative ways of defining and solving problems. This collective journey will explore questions such as: What histories have shaped our institutions? What processes have led to the erasure of ethno-cultural groups such as Black communities? How can we decolonize our practices? What collaborations are needed for shared decision-making? And what are the enabling conditions for transformative change?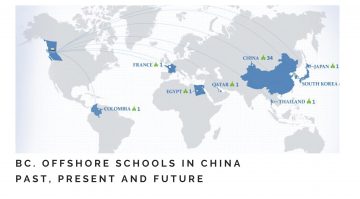 The Centre for Culture, Identity and Education is organizing a panel entitled "BC. Offshore Schools in China:Past, Present and Future" on Wednesday, March 11th from 1:00 to 3:00 pm. Panelists are Dr. Pei Ran, Dr. Ying Li, Dr. Gloria Lin, Lukas Bennett, MEd and Dr. Fei Wang.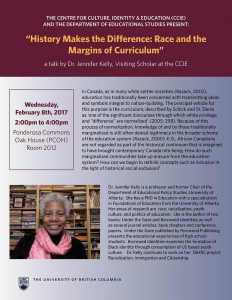 Presentation by Professor Jennifer Kelly, Visiting Scholar at The Centre for Culture, Identity and Education (CCIE), University of British Columbia. #History #Blackness #Race #Antiracism #Education #Curriculum #Canadian-ness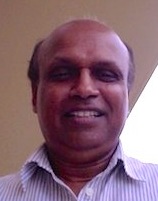 This paper by Dr. Siri Gamage focused on how Australian multiculturalism and associated political discourses and policies have undergone substantial changes in emphasis and direction in the last decade compared to the previous decades under the liberal-nation federal government.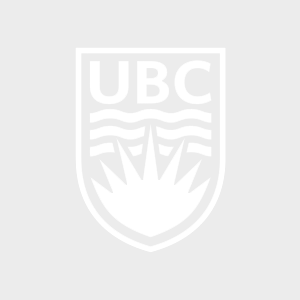 This presentation by Professor Michael Singh explored Asian-Australian perspectives on Indigenous Reconciliation in Australia, providing both an overview of the colonialist legacy of White Australia that continues to sustain a problematic relationship between Indigenous- and Asian-Australians, and a discussion on how Indigenous Australians have sought to publicly reclaim their humanity and sense of dignity.