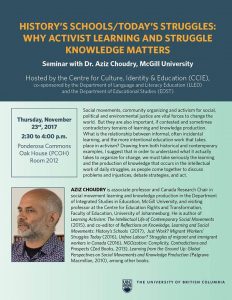 November 23, 2017
Seminar with Dr. Aziz Choudry, Canada Research Chair in social movement learning and knowledge production, Department of Integrated Studies in Education, McGill University; Visiting Professor at the Centre for Education Rights and Transformation, Faculty of Education, University of Johannesburg.
Hosted by the Centre for Culture, Identity & Education (CCIE).
Co-sponsored by the Department of Language and Literacy Education (LLED) and the Department of Educational Studies (EDST).