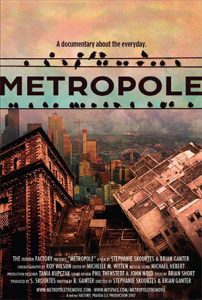 March 12, 2008
12:15 p.m. – 2:00 p.m. | Neville Scarfe Building, Room 2415
Organized by Centre for Culture, Identity and Education (CCIE).
CCIE was pleased to feature a showing of the feature documentary, METROPOLE, a visual essay that explores the everyday dimensions of social class in urban North America. Both the film producer, Stephanie Skourtes (UBC), and the film writer, Brian Ganter (University of Washington), are CCIE associates. A visual exploration of the daily flux of life, labor, and leisure in a global city over one 24-hour period, as experienced by persons from across the social spectrum, METROPOLE contains no dialogue. Instead, it uses only images, sounds, and music to express the everyday and seemingly mundane moments of a unique, yet familiar, reality. The documentary follows six individuals as they go about their day from morning to night through leisure time, home, and work. What at first appear to be unrelated, individual actions are connected by the complex economic and social relationships inherent to an urban consumer culture that compartmentalizes human activity. By combining beautiful cinematography, with an original, poetic musical score composed by Michael Hebert the complexity of our interdependence with one another in a post-modern economic climate is revealed. The purpose of the documentary is to highlight the contrasting social positions of consumer versus producer, positions that we all occupy, and to defamiliarize the everyday activities of work and rest. METROPOLE takes the seemingly disconnected interactions of our daily lives in order to mark them, label them and display them as something striking, something that calls for explanation, not to be taken for granted, not just natural. Visit www.metropolethemovie.com for more information.
DIRECTOR'S BIOS:
Stephanie Skourtes (Co-Director and Producer) is a self-taught independent filmmaker and educator. With an established academic background in sociology she moved into media production in 2000 with the desire to create aesthetically and politically conscious films and videos infused with a sociological understanding of everyday phenomena. Stephanie completed her first feature documentary project in 2003 that she wrote, directed, and produced titled, Growing Up a Mother. It follows the lives of three teenage mothers and their babies. A community outreach campaign accompanied this film resulting in numerous screenings around the country and wide distribution in educational markets nationally and internationally. Stephanie currently resides in Vancouver, BC where she is pursuing a PhD in Educational Studies at the University of British Columbia. Her research utilizes visual ethnographic methods to study female youth subcultures with a focus on the cultural politics of urban spaces.
Brian Ganter (Co-Director and Writer) is a filmmaker, cultural critic and teacher whose areas of research include Marxist social and cultural theory. He has published and spoken on the politics of representation in film and new media in a number of international journals, invited forums, and conferences. His work centers on matters of social justice and radical political praxis in the arenas of class, race, and gender especially in the wake of globalization and the new global U.S.-led imperialism. Brian has studied media theory and film production at various universities in New York and he is currently a PhD candidate in English at the University of Washington, Seattle.