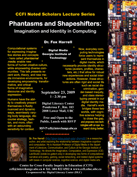 September 23, 2009
1:00 p.m. – 2:30 p.m.
CCFI Noted Scholars Lecture Series
Fox Harrell is a researcher, author, and artist exploring the relationship between imaginative cognition and computation. He is Assistant Professor of Digital Media in the department of Literature, Communication, and Culture at the Georgia Institute of Technology. He directs the Imagination, Computation, and Expression (ICE) Lab/Studio (icelab.lcc.gatech.edu) in developing new forms of computational narrative and poetry, gaming, social networking, and related digital systems with bases in computer science, cognitive science, and digital media arts.

Co-sponsored by:
Centre for Culture, Identity and Education (CCIE) and the Digital Literacy Center.