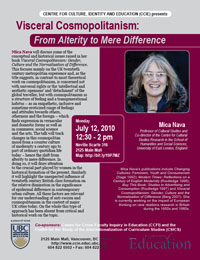 July 12, 2010
12:30 p.m. – 2:00 p.m.

A presentation by Mica Nava, Professor of Cultural Studies and Co-director of the Centre for Cultural Studies Research in the School of Humanities and Social Sciences, University of East London, England.
Professor Mica Nava will discuss some of the conceptual and historical issues raised in her book "Visceral Cosmopolitanism: Gender, Culture and the Normalisation of Difference." This focuses mainly on the UK twentieth century metropolitan experience, and, as the title suggests, in contrast to most theoretical work on cosmopolitanism, is concerned not with universal rights or the 'intellectual and aesthetic openness' and 'detachment' of the global traveller, but with cosmopolitanism as a structure of feeling and a transgenerational habitus – as an empathetic, inclusive and sometime eroticised range of feelings and attitudes towards others, otherness and the foreign – which finds expression in vernacular and domestic forms as well as in commerce, social science and the arts.
Co-sponsored by: Centre for Culture, Identity and Education, Centre for Cross-Faculty Inquiry in Education (CCFI), and the Centre for the Study of the Internationalization of Curriculum Studies (CSICS).