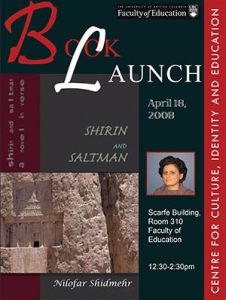 April 18, 2008
12:30 p.m. – 2:30 p.m., Neville Scarfe Building, Room 310
Organized by the Centre for Culture, Identity and Education and the David Lam Chair in Multicultural Education.
Book Launch for: Shirin and Salt Man  by Nilofar Shidmehr
ISBN 978-088982-246-7 • 160 pp • $17.95 • pb • April 2008 • Poetic Novella
Shirin and Salt Man is a novella in verse, which tells the story of a young modern day Iranian woman, Shirin. She is an ordinary girl from Kermanshah born before the Islamic Revolution, who imagines herself to be an incarnation of princess Shirin, depicted in the ancient Persian classic Shirin and Khosro. At first she tries to shape her life to that of the myth, but later decides to change her destiny and become the author of her own story. She leaves her husband and runs away with the Salt Man, a 1700 year old mummy on display at the Iranian National Museum in Tehran. The poems form a compelling narrative of the life of a contemporary Iranian woman whose voice has been muted by Khosro, her fundamentalist and traditional husband. In an environment where the dominance of men is written in stone and where only men have the authority for fashioning and telling stories, Shirin reclaims a place for herself as a lover and teller of stories. She re-enters life through cracks of narrative to invent Shirin anew, one whose life-path radically diverges from that of her namesake, Shirin of Nezami's story. She digs out Farhad, the mythical lover of princess Shirin, who has now become the Salt Man, from under the dust and stones of history and she gives him another opportunity to love her. In transforming Salt Man to another Farhad, Shirin creates a new history—one shaped and narrated by a feminine voice.
Biography
Nilofar Shidmehr was born and raised in Iran, and has lived in Canada since 1997. She holds an MFA degree in creative writing from the University of British Columbia and is currently working on her PhD at the Center for Cross Faculty Inquiry in Education. Nilofar is the translator of Toni Morrison's novel The Bluest Eye (Vistar Publishers: Tehran, 1997, reprinted in 2007). Her work has been featured in both Iranian and Canadian literary magazines, including Descant, A Room of One's Own, West Coast Line, Galleon, and the Shahrvand, a widely-read Iranian newspaper published in Toronto and Vancouver.Nilofar believes the way to understand the dilemma which is Iran, is through reading and connecting to the intimate stories that reflect Iranians' lives. She is hoping that, through her writing, she can share these insights with her readers.