Thursday 29 April – 11:45 AM – 1:15 PM (Pacific Time (US & Canada))
Organizer: Esraa Al-Muftah (Qatar University / University of British Columbia)
The perpetual [gendered] crisis in education: A genealogical analysis of the desired ideal girl in (post)colonial Bahrain   *Sara J.. Musaifer (University of Minnesota-Twin Cities)
The political mechanisms of reforming educational systems in the Gulf region   *Ibrahim Alhouti (UCL Institute of Education)
Strategizing in higher education: A critical discourse analysis   *Hadeel AlKhateeb (Qatar University)
Academic mobility, between the past and the present: The case of Qatar University   *Esraa Al-Muftah (Qatar University / University of British Columbia)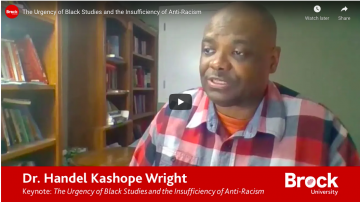 Professor Handel Kashope Wright delivers the keynote at the Virtual Symposium: Activism and Solidarity Post-Script to the "Scholar Strike Canada" on October 29, 2020. Keynote Title: "The Urgency of Black Studies and the Insufficiency of Anti-Racism".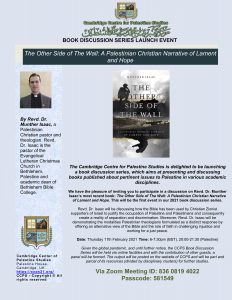 The Cambridge Centre for Palestine Studies is inviting you to participate in a discussion on Revd. Dr. Munther Isaac's most recent book: The Other Side of The Wall: A Palestinian Christian Narrative of Lament and Hope.

Recent events have brought the issue of systemic racism to the forefront prompting all orders of government and organizations to take a much closer look at racial discrimination and develop strategies to address this long standing issue.
In response, Metro Vancouver is hosting a series of forums on systemic racism for elected officials in the region featuring Dr. Handel Wright and a panel of storytellers, with discussion moderated by Kathryn Gretsinger, an award-winning CBC broadcaster. Storytellers include Neila Miled, recent PhD graduate of the Faculty of Education.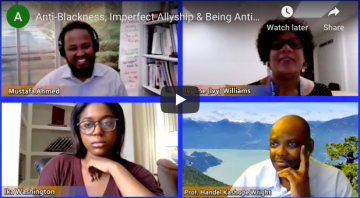 Handel Wright, Professor- Educational Studies, participated on a one hour moderated discussion (webinar) organized by Fraser Health in October 2020 on the topic "Anti-Blackness, Imperfect Allyship & Being Antiracist."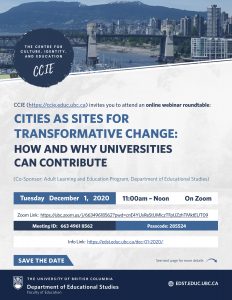 Date: December 1, 2020
Time: 11:00am – Noon
The presenters recent and SSHRC-funded project, entitled "Transforming city governments in response to disruptive change: meeting the challenges of colonization, inequity, and climate change," is an example of collaborative efforts between UBC and municipal governments that seeks to understand how Canadian cities can transform as they address the complex challenges of colonization, inequity and climate change. Preliminary insights indicate that city staff are under pressure to deliver on set priorities and timelines with little time and resources to reflect on the theories, paradigms and worldviews that inform their decision-making. Through a learning journey, city staff, community partners and researchers will work to unearth the structures within which cities operate and test alternative ways of defining and solving problems. This collective journey will explore questions such as: What histories have shaped our institutions? What processes have led to the erasure of ethno-cultural groups such as Black communities? How can we decolonize our practices? What collaborations are needed for shared decision-making? And what are the enabling conditions for transformative change?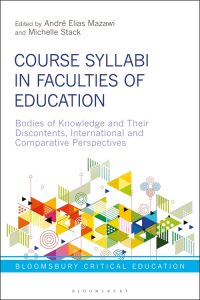 Tuesday, December 1st, 2020, 2:00-3:00PM PST
Join co-editors André Elias Mazawi and Michelle Stack (2020 Wall Scholar) for a virtual launch of their new book: Course Syllabi in Faculties of Education: Bodies of Knowledge and Their Discontents, International and Comparative Perspectives.
Dr. Jo-ann Archibald (Q'um Q'um Xiiem), former associate dean for Indigenous Education and director of the Indigenous Teacher Education Program (NITEP), and professor of Educational Studies in the Faculty of Education at the University of British Columbia will deliver a short reading from her chapter, "Embodying Raven's Knowledge in Indigenous Teacher Education".
Other contributors to the book will also be on-line to participate in a Q&A and discussion.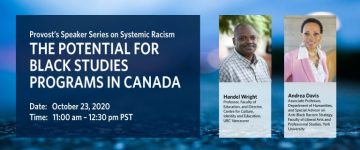 Provost's Speaker Series on Systemic Racism
Date: October 23, 2020
Building Black Studies in Canada: Moving beyond Anti-Racism Courses
Andrea A. Davis, Associate Professor, Department of Humanities, and Special Advisor on Anti-Black Racism Strategy, Faculty of Liberal Arts and Professional Studies, York University
Did Someone Say Black British Columbia? Rough Autobiographical Notes on Blackness and the Prospects of Black Studies at UBC
Handel Kashope Wright, Professor, Faculty of Education, and Director, Centre for Culture, Identity and Education, UBC Vancouver
Black Artistic Expressions in B.C. is a community-university collaboration developed in partnership between local Black artists, IBPOC Connections: Staff and Faculty, and the Centre for Culture, Identity and Education at the University of British Columbia.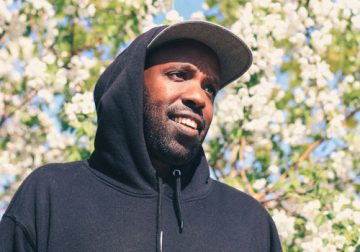 On November 18, join us as we welcome Shad as our third guest performer in a four-part virtual series of events centred on joy and resilience, fun, and activism that bears witness to what it means to be Black in BC.